Extreme hunting dog Protection
Southern Cross Cut Gear
Made in the USA
100% Designed, Tested, and Manufactured in the United States
Lifetime Warranty
Manufacturer's Lifetime Warranty
Free Shipping
Free Shipping on orders over $200 shipped within the USA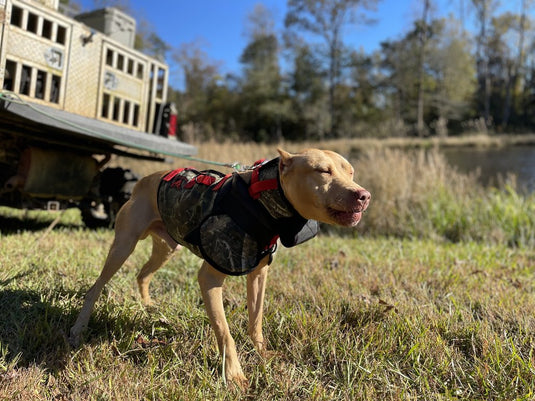 What is Cut Gear?
Cut Gear is a term for Protective Vests and Collars for hunting dogs, most commonly Hog Dog Vests and Collars.  Cut gear is designed to protect dogs from wild boar and decrease the likelihood of a serious or fatal injury.   Southern Cross Cut Gear offers multiple style vests and collars utilizing true Dupont™ Kevlar® and other protective layers. Catch Dog Vests are designed to offer the highest level of protection for dogs likely to come in frequent direct contact with wild boar.  Strike and Bay Dog Vests are designed to offer lightweight and flexible protection without inhibiting movement.  Cut Collars are designed to protect one of the most vulnerable areas on a dog with several styles that are compatible and will also protect tracking collars.  Attached Collar vests are available for ease of use and an even higher level of protection.  Custom gear can be built to meet exact specifications such as color and fit.  Add ons such as Leg Guards, Chin Guards, Extra Para-Aramid and Flotation can be selected as well.  Cut Gear is truly a vital piece of equipment for any hunting dog in the field.  
DuPont™ and Kevlar® are trademarks or registered trademarks of affiliates of DuPont de Nemours, Inc.
Southern Cross Cut Gear
Top Products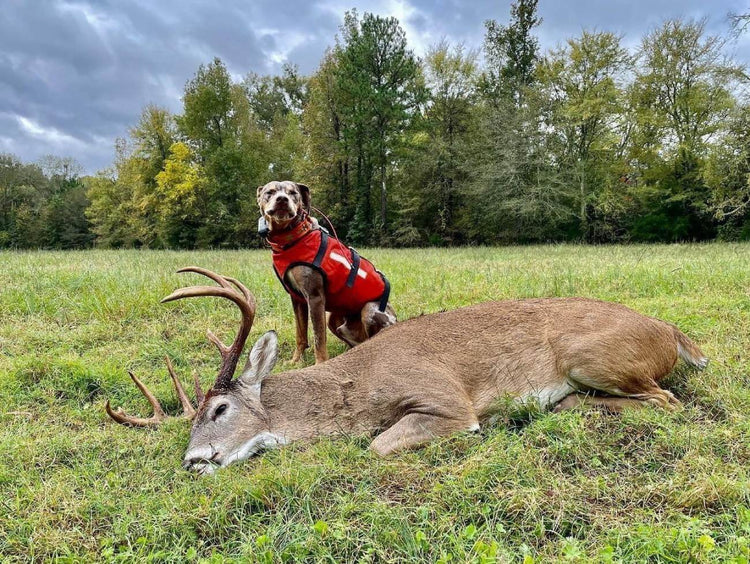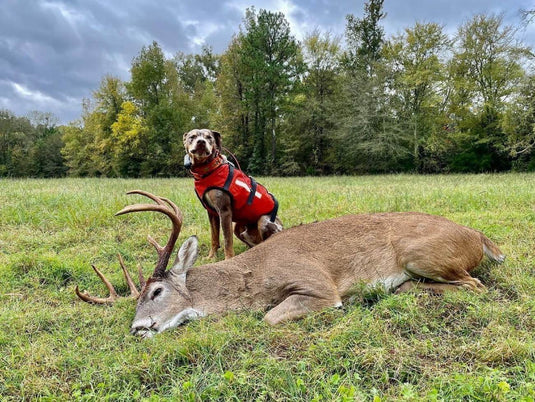 2023
GA Deer Season Begins
Deer season ends and Hog Dogging begings! Get ready now!
Tracking Dog Vests
About Us
Southern Cross Cut Gear: Protecting Hunting Dogs for Over 20 Years
Welcome to Southern Cross Cut Gear, the premier provider of top-quality protective vests and collars for hunting dogs. With over two decades of experience, we have established ourselves as the trusted industry leader in canine protection.
At Southern Cross Cut Gear, we understand the importance of keeping your hunting dogs safe in the field. That's why we meticulously design and craft our gear using only the highest quality materials. Our vests and collars are specifically engineered to safeguard your dogs from potential injuries, particularly from encounters with wild boar and other hazards.
What sets us apart is our personal dedication to our products. Every item we offer has been extensively tested and used by us in real-life hunting situations. We are proud to share that we have never lost a single one of our personal dogs to injury while wearing Southern Cross Cut Gear. That's the level of confidence and reliability we bring to the table.
Our primary goal is to protect your beloved hunting companions, and we back our products with unwavering commitment. We stand firmly behind our gear, offering a 100% satisfaction guarantee. When you choose Southern Cross Cut Gear, you can trust that you're investing in the utmost protection for your dogs.
Explore our extensive collection today and equip your hunting dogs with the gear they deserve. Shop confidently, knowing that you're choosing the industry leader in canine protective equipment. Join the countless satisfied customers who have made Southern Cross Cut Gear their go-to source for dependable and durable hunting dog gear.
Protect your dogs. Choose Southern Cross Cut Gear.